THE EXTREMELY CONSCIOUS MAN EXPERIENCE IS AN "IN-PERSON" GATHERING FOR MEN COMMITTED TO ACTUALIZING THEIR FULL POTENTIAL AND TRULY LIVING THEIR BEST LIFE!

Join The Waitlist To Be Notified Of Our Next Retreat!
For Elevated Men Committed
To Constant Growth
Extreme Adventure | Extreme Connection | Extreme Conversation
Every "driven" man desires to HAVE IT ALL! They want to be WEALTHY in all areas of life. They want DEEP meaningful relationships with the people they LOVE most. They want to INSPIRE others to follow their dreams. And, yet, they're often the last ones to FILL THEIR OWN CUP and GIFT others with their full presence.
If you're feeling the call to connect IN PERSON with a group of men committed to BECOMING a man they admire and would follow …. this experience is for you!
REDEFINE who you are and how you show up in the world
Adventures don't begin until you get into the forest. That first step is an act of faith
When Trevor & Mike met each other on the street in West Kelowna, BC, Canada pushing double wide strollers with 2 young boys each … they didn't know it … but they were looking for each other. Another man that they could connect with and have conversations that went deeper than what was happening in the sports world over beers. They were seeking higher vibe conversations. Real conversations that would help them expand their beliefs and accelerate their growth beyond what they could accomplish on their own.
As fathers to 2 young boys, Mike & Trevor know that they are modeling what it means to "be a man" in today's world. And, they are committed to constantly evolving their mind, body and spirit to create a more beautiful world that they want to live in and leave for their kids. And, they know they can't do it alone.
This is why they created The Extremely Conscious Man Experience. Because, the truth is, every man deserves to live their best life.  And, the connection that is created at these events amplifies the positive impact they all desire to create in their lives … and in the world!

If you want to go fast, go alone.
If you want to go far, go together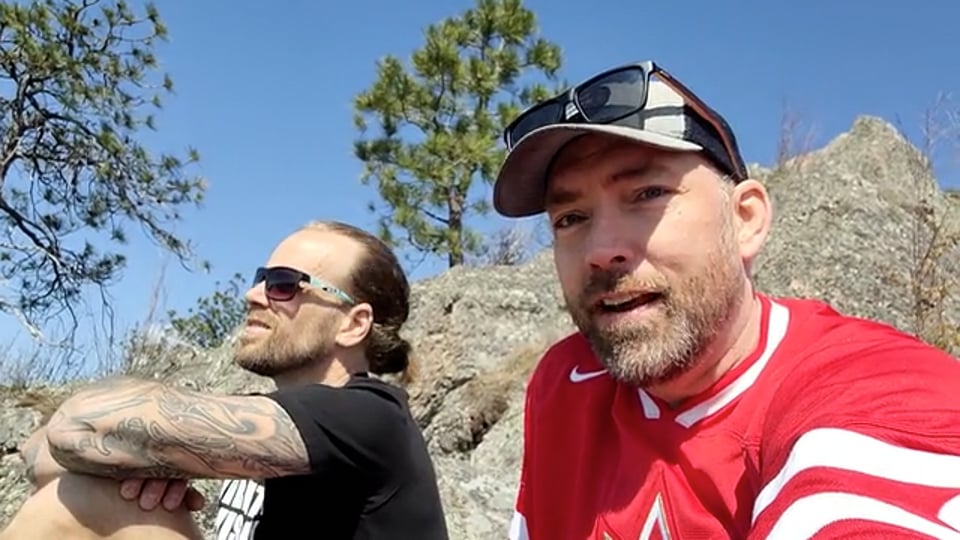 (Why did we create these experiences?)
Want the "detailed" breakdown of why we created these retreats? (watch the video above – recorded in April 2022). To summarize…we are committed to being a part of the positive change we wish to see in the world. And, we know that to create that change, we need to lead by example and align ourselves with other men committed to actualizing their full potential & embodying higher self. The world needs more men to step up and lead from the front. And, we would be honored to share this journey with you and call you our brother!
Not Sure If The Extremely Conscious Man
Experience Is Right For You?
The truth is, these events are NOT for everyone. And, we'd like to help you make an informed decision … so you can be honest with yourself and truly commit to The Experience (and The Journey) all of the men are going to lean into before, during and after the event.
Who Is This Experience For?
Men that are fully committed to creating lasting change in their life
Men that are looking to find more fulfillment & happiness in everyday life
Men that are seeking alignment with their vision & purpose in the world
Men that are desiring a deeper connection to their true, authentic self and others
Men that are ready to lead their life from a truly heart-centered place in integrity
Who Is This Experience NOT For?
Men that are NOT accountable to their word and looking to escape their lives
Men that are NOT ready to drop their armor at the door and be honest
Men that are NOT willing to lean into vulnerable, honest conversations
Men that are NOT open to stretching their beliefs and physical limits
Men that are thinking this is an all-inclusive, keg stand drunk fest
 REFLECTIONS
FROM THE APRIL '23 RETREAT IN POTRERO, COSTA RICA
The April 2023 retreat in Costa Rica was highly anticipated the minute our first retreat in Canada ended.  As Trevor moved his family down to Costa Rica in Sept 2022 … the planning began!  And, to say that we took this event to a whole new level would be a massive understatement!  We faced our fears together, we tapped into our higher power and we connect with each other (and ourselves) in a way that will serve each and every man that attended as they headed back into their daily lives.
If you are inspired by what you see & hear…make sure to apply above and lock in your spot for our next Extremely Conscious Man Experience!
REFLECTIONS
FROM THE JUNE '22 RETREAT IN KELOWNA, CANADA
The June 2022 retreat is in the past…and it was amazing.  Everything we envisioned and so much more!  In the video above, you'll relive the life changing weekend when 10 men's lives changed forever. And, in the videos below, you'll hear from Mike & Trevor as well as the guys that bravely joined a group of strangers for a weekend to become better versions of themselves … and what they took back into their lives leaving the retreat.
If you are inspired by what you hear…make sure to apply above and lock in your spot for our next Extremely Conscious Man Experience!